By Jack Shaw, Vice President for Campus Services, Shepherd University. Bio below.
A really solid plan tends to be scalable and applicable to other challenges. In fall of 2017, Shepherd University opened Potomac Place, a 5-story, 298-bed, 81,000-square-foot, multi-use residence hall. The bedrooms are in a modified suite format with a 2:1 resident to bathroom ratio.  Potomac Place has a TV lounge and two study lounges on each floor, a large gathering space with a kitchen on the first floor, a classroom, and a 1,200-square-foot quick service dining location. The University planned Potomac Place to be a flexible facility that would accommodate students during the academic year and conferences in the summer. We understood that the amenities could even be a destination for the adult clientele that attended the University's very successful annual summer theatre festival.  And we certainly assumed the facility was flexible enough to handle other potential future unmet lodging needs of the institution and its guests for many years into the future. But we could not have anticipated how effective this facility would be as the University navigated operations throughout the past year's pandemic.
Shepherd University transitioned to an all-distance instructional format in late March for the remainder of the Spring 2020 semester. At that time, the Residence Life Department moved all remaining on-campus residents into Potomac Place. Shepherd would end up housing approximately 65 students over the final six weeks of the Spring 2020 semester. All students were placed in their own private single suite. The University Dining Services served those students at the Riverside Market dining facility within Potomac Place.
For Fall 2020,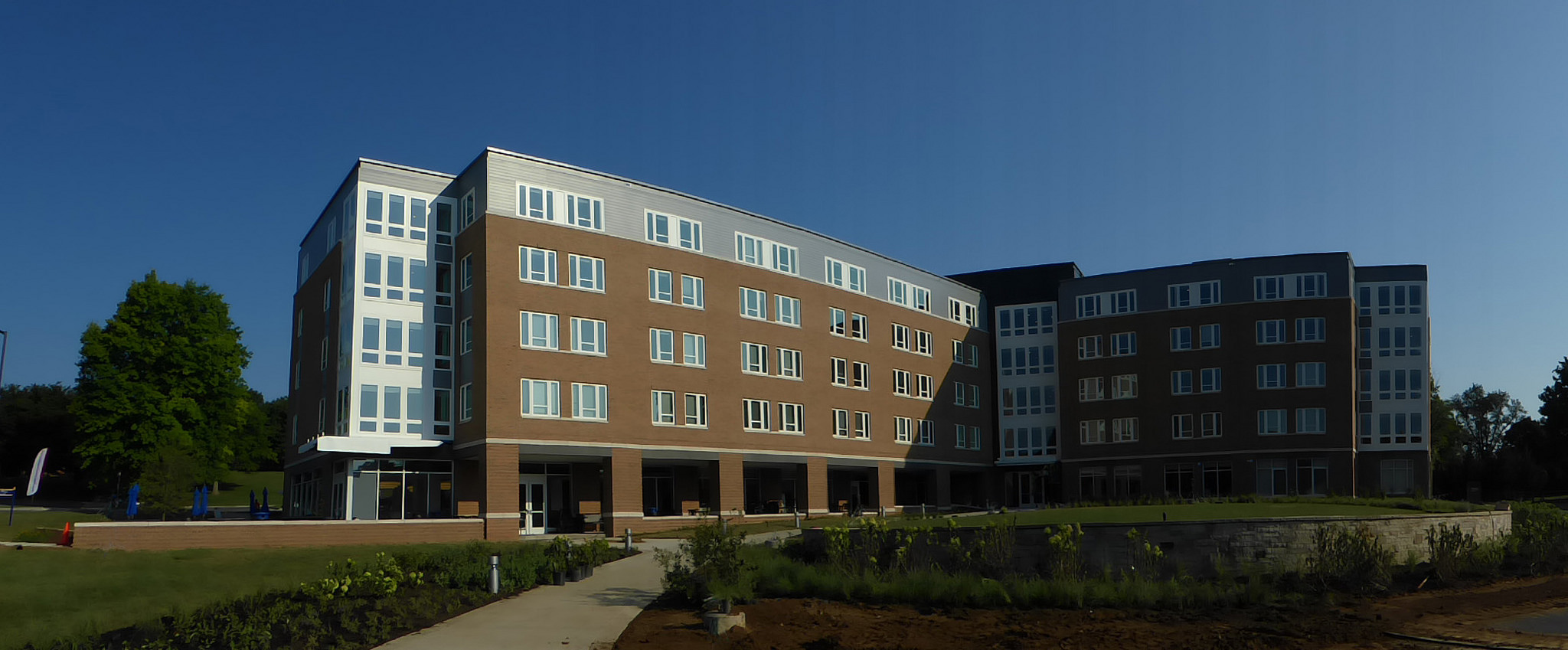 Shepherd University chose to institute a "mostly singles" housing format. This de-densified campus from just over 1,000 beds to 611 on-campus residents. The University contracted with a local hotel, approximately 2 miles from campus, to place an additional 46 residents on that property. Approximately 40 students chose to have roommates in order to preserve their previously assigned space. The remaining students resided in single spaces (regardless of room design) across all of our housing communities.
The Potomac Place design ended up being the model format for the "COVID"-driven environment.
Robust wifi allowed students uninterrupted access to the demands of a "Zoom-heavy" academic environment inside and out.
Well-designed adjacent seating and green space allowed for the perfect COVID-environment community spaces for students to safely engage one another or get needed outdoor fresh-air time while still being able to conduct academic studies.
The location of the Riverside Market foodservice venue allowed students to get meals and return conveniently to their rooms. That proximity delivered convenience and reduced traffic across campus.
The 2:1 original resident-to-bathroom ratio (now predominately 1:1) helped maintain social distancing and sanitation.
While Residence Life took much of the community space off-line for operational efficiencies, the generous amount of community space throughout the building allowed for a degree of community building for students.
An unfortunate reality was that some students did not live up the University's "Get Ram Ready" pandemic defense initiative. In those cases, the effective camera system gave Residence Life the ability to quickly identify problems and mitigate in a timely manner.
The room design, including personal bathrooms, micro-refrigerators, microwaves, and flexible room design allowed for a more comfortable quarantine environment, when necessary. While the University did move students who tested positive for COVID into "isolation spaces," those students that only needed to quarantine were able to stay in Potomac Place. Delivery of meals was quick, easy, and efficient given the L-shaped design and central elevator. In one case related to ADA, the University did leave a COVID+ student in their Potomac Place space and moved the suite-mate to another campus location to quarantine.
A large laundry room along an exterior wall allowed for students to safely clean clothes with social distancing and good exhaust.
The individual-specific/suite-specific air conditioning units made HVAC less of a concern throughout the building.
The housing study the University conducted with our P3 partners did not specifically conceive of addressing a pandemic. However, the lifestyle the plan hoped to achieve has been perfectly congruent with residential needs during the current crisis.  The student lifestyle needs identified by our P3 partners included the robust wifi needed for evolving student academic and lifestyle needs, flexible spaces that pivot from personal reflection to small group engagement, safe and convenient heating and cooling systems, convenient amenities such as food, vending, and laundry. All of those originally conceived project objectives, as delivered, have been integral to Shepherd's success at combating the pandemic with Potomac Place.
With a vaccine
hopefully transitioning academia out of the pandemic environment, it will soon be time to reflect on what we have learned and how it may help us operate in the future. I am quite sure our lessons learned will continue to be used into the future, as much of the pandemic realities were functions of the already-changing world. I would expect the following to continue once we exit the pandemic and enter our "new normal":
Distance Learning is not going away. Though we hope to return to a majority of in-person classroom instruction, hybrid will be here to stay. Hybrid is too convenient to the modern world where students have work, internships, sports, family, etc. that can continue when instruction has an online component (whether synchronous or asynchronous). Given that, bandwidth and connectivity will be of paramount importance to the on-campus housing community.
Fresh air, inside and out, will be a valued commodity.
Quick access to safe, flexible community engagement spaces are important for students socially and for academic engagement.
Flexibility and access to other auxiliary services including laundry, dining, parking, and mail are very important and need to be a planned-for component of any housing community.
The pandemic has pushed our campus to the edge. At times we lived hour-to-hour and celebrated just getting through a day or week. But being pushed has made us better and I look forward to using what we have learned to be even better in the coming semesters and years.
JACK SHAW
 is the Vice President for Campus Services at Shepherd University. He has administrative oversight of the University Bookstore, Dining Services, Residence Life and Conference Services, Rambler Card Office, Student Center, Wellness Center, Vending, and apparel licensing. He also provides financial analyses for Student Affairs and assists in leading the University's efforts in Emergency Operations Planning. He has been with Shepherd University since 2004, as the Director of Dining Services, transitioning to his current role in Spring of 2014.
Shaw earned a Bachelor of Science degree in Finance and a Master of Business Administration degree from Virginia Tech. His career includes over 20 years of hospitality in the Higher Education market, including experience at Virginia Tech, the University of North Carolina at Greensboro, East Central Community College (MS), Marshall University, and Southern Illinois University at Carbondale.