This is the second article in a two-part series by Gary Stewart, assistant vice president at Cornell University (bio below). The first article looked at town-gown relationships. Today: Representative Cornell University projects and investments.
As the land grant university of New York State, Cornell University's commitment to partnership, investments, and service plays out in a number of ways.
It is reflected on various platforms that touch on engagement, research, and impact, around Ithaca, in New York City (link 1, link 2), and internationally (link 1, link 2, link 3).
Two relatively new, representative campus-community initiatives in Ithaca and Tompkins County touch both on the power of collaborations and never settling for business as usual.
REV ITHACA STARTUP WORKS
Rev Ithaca Startup Works is a business incubator and workspace that provides mentorship and startup resources for new or growing business that create local jobs. It's the product of a Cornell-led partnership in concert with Ithaca College, Tompkins-Cortland Community College, and community partners.
Bloomberg Businessweek recently ranked Ithaca as the leading startup location in the nation for "tech areas without the downsides." Rev, working out of a small Upstate New York city, is a big part of that mix.
In 2017, Rev's member companies:
Raised $21M in capital ($18.2M in Ithaca)
Generated $8.2M in revenue ($7.8M in Ithaca)
Created 92 new jobs (76 in Ithaca)
At a recent gathering of Ithaca-area entrepreneurs, Tom Schryver (Cornell '93, MBA '02), executive director of the Cornell Center for Regional Economic Advancement, said some folks wonder if Ithaca could be the next Silicon Valley. "We have no interest in becoming anyone else. We want to be the best 'us' that we can possibly be," Schryver said. "We've got a lot of tremendous assets here that can make us a strong, great Ithaca and region," adding that university research and development are "a foundational asset upon which an innovation economy is built."
For more information on Rev's growing, ever-evolving success story, check out these two articles (link 1, link 2).
ENGAGED CORNELL
Engaged Cornell champions research, curricula, and co-curricular activities that are identified, designed, and implemented with partner communities through awards, grants, and supplemental funding.
Some illustrative examples of Engaged Cornell partnerships in New York State from earlier this year:
Funding to majors, minors, and graduate fields: 18 major curricula, 11 minor curricula, and 19grad fields
New York State partners on funded projects 2015–17: 118 across the state, 12 Cornell Cooperative Extension associations, and 60 in Ithaca/Tompkins County
New York counties with funded partnerships: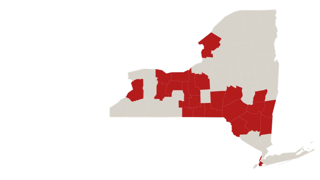 Engaged Cornell works well, in part due to accessible, understandable components, as illustrated via sites on courses and resources.
As New York State's land-grant institution, Cornell University is charged with advancing the lives and livelihoods of the state's citizens through teaching, research, and public service. The university's co-founder and namesake, Ezra Cornell, and co-founder and first president, Andrew Dickson White, worked hard to create "a world-class institution with egalitarian ideals."
Those goals can only be reached with creative and sincere collaborations. I am proud to work at a place that walks that walk on a daily basis, on dozens of fronts, near and far.
GARY STEWART is an assistant vice president at Cornell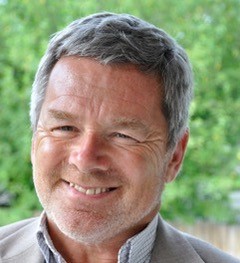 University, and oversees its Office of Community Relations. Among the many awards this office has received include the 2015 Martin Luther King Jr. Peacemaker Award from the Community Dispute Resolution Center, and the 2016 International Town-Gown Associations Presidential Excellence Award. For more information on town-gown programs in Ithaca, e-mail gary.stewart@cornell.edu.