By Cassia Sookhoo, Senior Associate, Brailsford & Dunlavey
Colleges and universities nationwide are rethinking the delivery of strategic investments. The movement away from traditional financing and design-bid-build transactions is indicative of creative delivery methods involving public-private partnerships (P3s), which take many forms.
A number of these P3s are equity projects—transactions in which typically, a developer designs, builds, finances, operates, and maintains (DBFOM), ultimately owning the improvement or asset funded utilizing their own equity—leaving higher ed professionals scratching their heads and asking:
Why would a school opt for an equity deal? I associate equity with a higher cost of capital and potential loss of control over the design, operations, and maintenance components—all things I want a say in. Plus my university's reputation is directly tied to this asset, so why would I risk that loss of control and have things go awry?
This article seeks to answer these questions, but first, some background on the perspectives shared here. We offer this article from the perspective of an impartial advisor to the university. The impartial advisor has no investment in a P3 being the right answer for a school—indeed often it's not. Nor does the advisor have any investment in an equity deal being the right P3 structure—likewise, often it's not. We explore opportunities for strategic partnerships and, having advised schools on a variety of projects—some P3s, some not; some equity deals, some alternative tax-exempt structures, some hybrid debt and equity structures, etc.—we have seen why schools that choose equity P3s rightly do so, and have seen the circumstances in which it's the not the optimal answer.
To best leverage industry expertise, we also interviewed three professionals to introduce unique perspectives from the marketplace:
Greystar (formerly EdR) – Julie Skolnicki, Senior Vice President for University Partnerships
ACC – Jamie Wilhelm, Executive Vice President of Public-Private Transactions
Harrison Street – Michael Leonczyk, Vice President, Infrastructure Acquisitions Lead
Why equity?
In short, equity deals can provide a variety of features and benefits, including:
A high-quality, attractive project that preserves a school's capital and debt capacity for mission-critical purposes
Diversify capital sources
A solution for unique target populations on campus that don't fall under the "traditional residential life experience" umbrella (e.g., upper-division students, graduate students, faculty and staff)A product that can be of high quality, but because of economies of scale, can be delivered less expensively
A way to monetize what is often a campus edge property
An opportunity to add product without upfront institutional capital and corporate debt
This is not to say that the potential loss of control isn't a factor with equity deals, simply that there are reasons certain schools in certain situations are attracted to this option. Also, because P3s are by nature multifaceted transactions, "loss of control" challenges of an equity deal can sometimes become favorable outcomes to protect the institution's financial, operational, budgetary, political, and reputational risks.  Or agreements can be structured to allow the university to maintain control of the components they value most (design and residence life as outlined below).
What does mitigating for the potential loss of control and for reputation concerns entail?
There are two types of "loss of control" that schools are generally concerned about with equity deals: design control and O&M control (operations and maintenance). To mitigate for the loss of design control, two tactics can be used—whether in isolation or combination. The first is to put out a robust RFP, the second is to work with an advisor, the third is to select a partner that aligns with the interests of the school. By making some determinations up front—and the right determinations—a school is more likely to not just feel in control, but actually exercise control. The developer will respond in a way that takes the school's demands and desires into account, offering a suggested solution that works for both parties. Between a strategic RFP and having an advisor looking out for your best interests and offering best practices and creative concepts from around the country, the level of control in an equity deal can look awfully similar to that in an alternative tax-exempt or concessionaire structure. For example, if design is of high concern, the inclusion of robust design guidelines and clear expectations puts the school at the advantage of benchmarking responses.
Much like mitigation for design risk, to mitigate for O&M risk, robust roles and responsibilities expectations must be included in the RFP. Oftentimes, we advise clients to include real assumptions based on their current operations in the RFP. This alleviates the guessing game for partners and allows for a reaction to feasibility of the project. Teams responding to the RFP can provide examples of their O&M portfolio, giving schools the opportunity to see the potential partner's O&M practice in action.
Jamie Wilhelm, American Campus Community's EVP of Public-Private Transactions, also notes that control isn't exactly lost when there is true alignment between partners. "One of the biggest misconceptions about the equity structure is that the university loses control. We'd argue against that assertion quite vigorously, and think the university actually has quite a bit of control. First, if they don't like the deal, they don't have to enter into it. But really, when our interests are aligned, we have the same wants—that the asset is in the best shape possible, that it's attractive to students, that it leases up to 99%, and so on." We can take from this the idea that when goals are shared, being able to exercise control isn't as much of an issue.
Julie Skolnicki, Greystar's SVP of University Partnerships, adds that "our most successful partnerships are those where the University has been part of the architect and contractor selection process and the projects were designed collaboratively engaging students, faculty and staff.  This is essential to alignment of interest and the success of the project and assures that the design is representative of the University's brand and supports strategic objectives.  This is even more important for honors, first and second year housing where our Partners maintain full control of the student experience: residence life, marketing and assignments."
Regarding reputation concerns, the partnership may allow for a separation from the school's residential life perception. For example, students in upper divisions may seek an experience much like the off-campus market, but still want to be proximate to classes. Thus in cases such as these, the reputation of the project is managed by the partner. Alternately, schools may opt for a closer relationship to the project as it may be a way to show students the school's commitment to investment on campus while not having to write the check. One way this looks is retaining control over more of operations and/or maintenance in the DBFOM spectrum—something that can be appealing for developers, as well. Michael Leoncyzk, Vice President, Infrastructure Acquisitions Lead, Harrison Street, says, "We prefer to blend into the background from a user (student or patient) perspective and allow our partner institution to go about the operation of their core business."
Where schools seek a closer shared reputation risk, advisory committees may be utilized for the term of the ground lease. The school and partner will include key personnel on the committee and meet on an annual basis to discuss and vote on concerns. This is another opportunity for the school to be in the "know."
Is equity more appealing than other P3 structures?
Equity is not inherently more or less appealing than other P3 structures—each project will have its own ideal structure, if a P3 is ideal at all. Where equity is likely the right answer, though, there are commonalities. First, we hear from higher ed clients that having a development partner that stands by the mission of their university is key. When goals and values align, decision-making and any conflict resolution is easier. Wilhelm's note on control is just one example here.
Second, our clients have valued having a partner that will stand behind the product for the duration of the ground lease. Since the developer doesn't exit the scene after project delivery in a developer equity structure, it is invested not just during construction but for the decades that follow. The logic goes: If you know that you'll be responsible for something for the long haul, even if not forever, you'll do a more careful job upfront and be more proactive with operations and maintenance… because it's the job you'll have to live with.
Julie Skolnicki, Greystar's Senior Vice President of University Partnerships, says, "Schools might hear 3rd party developer and operator, (typical of 501(c)(3) ownership and 100% or highly leveraged debt models)…' offering the same DBOM as they do in a DBFOM, but  contractually and in practice, developers also responsible for equity financing (the "F" in "DBFOM") participate in a different way because of they own the asset for the duration of the ground lease. Because of our 50-year history and experience owning and operating student housing, we operate every asset like we own it, but in addition to this approach our partners are protected by the contractual obligation to maintain an asset in first class condition for the duration of the lease, where 3rd party operating cost (and risk) are typically capped.  A service provider is different than an owner—it's just a different mindset – and a different legal obligation." So the financing structure you choose fundamentally impacts quality and level of investment on the design, construction and long-term maintenance of the facility.
Wilhelm echoes this thought. He says, "We honestly don't care if it's equity or not—developers try to do what's right for the school—but if you really want us to have skin in the game, then it needs to be an equity deal. Because we know it's going to be our asset for the next 50–75 years, and at some point in the pre-development, that means we may have a very strong opinion on a mechanical system or roof or plumbing. Why? We've studied the market and need to get the rental rate right."
For Wilhelm, that's not a comment on control, but on partnership—and that this level of partnership is increasingly appealing to schools. He says, "Over the last decade, we've seen universities wanting their developer to feel and be more at risk. When you do a 501(c)(3) deal, where once we've done our part the university manages, you can only align risks so far—and I'm not sure that feels like a partnership. If you add us as manager, we're more at risk. We're seeing an emerging trend that universities who want a 501(c)(3) are seeking structural assets that make it feel and act more like a partnership."
Third, our clients who turn to equity deals often do so because the financials work as needed/desired. As Leonczyk explains, "While the cost of capital over the life of a transaction is slightly higher for equity (compared to investment-grade rated debt), there are significant up-front cost reductions that make equity less expensive from an initial viability perspective. The Yr-1 Net Operating Income / Earnings Before Interest Taxes and Debt Amortization (EBITDA) target for an equity investment is often 20−30% lower than a corresponding debt transaction. This is a result of eliminating capitalized construction period interest, debt service reserves, issuance costs, and required debt service coverage ratios. The flip side of this is that if the project performs to pro forma levels, there is typically greater cash flow available to the host institution in a debt model. We often urge our potential partners to stress that assumption with lower-than-projected NOI growth or greater Capital Expenditures reinvestment before determining that debt is decidedly less expensive."   
Fourth, our clients value the level of risk transfer that comes with an equity deal. When structured most advantageously from the school's perspective, partners will assume project budget risk, schedule risk, and operational risk. In a climate with escalating hard costs and speculative interest rates, the transfer of these risks can just about guarantee an on-time delivery without having to manage the elements of a project budget like in an alternative tax-exempt structure.
Finally, our clients who have opted for equity deals value having a "one-stop shop." With a private capital equity deal, your investors may be the same people as your long-term O&M partner. This can mean a more efficient project compared to going to the public market for bonds—after all, you deal with just one capital provider. Because of this streamlining, procurement can move faster as you're not going out and finding a different entity for each of the pieces in a DBFOM. This also reduces the number of internal approvals. In scenarios where a third-party operator is utilized, investors tend to seek out the best partners for O&M to protect their asset long-term.
What makes equity less appealing?
At the end of the day, even with aligned interests, the private partner in the equity structure makes more decisions than it does in a 501(c)(3) or 100% or highly leveraged debt structure. So if a university in an equity deal is tied to the minutiae, for example during the construction, the third party will end up with the final vote after the execution of the ground lease. Which is to say, control loss is still present and school decision makers need to be aware of that fact. While it can be mitigated, compared to other structures it's still present.
Another drawback for some: In order to accept the risk transfer, the private partner needs something in return—that is, money. In the example of student housing, perhaps traditional financing would result in a school getting 100% of the money brought in via student rents. In an equity deal, the partner will collect rents and offer a ground lease rental payment to the school. Depending on structure, ground rents may be a percentage of total revenue, a set project expense item, or a waterfall payment after the partner collects associated investment costs. The idea is that the partner is responsible for managing all associated costs of the project, and thus will structure its pro forma to allow for ample coverage of risks and costs. To some schools in some situations, this hit will be modest and well worth it; in other cases, the reduced cash flow is a deal breaker.
Finally, equity deals may result in a project being subject to property taxes, making the entire project cost more than it might in alternative structures. The property tax question is one that many schools nationwide are starting to wrestle with. In some cases, allowing the school the responsibility for the payment may make sense because of the potential lower Payment In Lieu of Taxes (PILOT) with the locale. In other cases, the project pro forma may not support the tax payment and thus limit the potential for an equity structure. Treatment of property tax is highly dependent on local legislation, town and gown relations, and procedure.
What kinds of schools are actually pursuing equity deals… is it just certain institutional profiles?
Ten years ago, the answer to that question would have been yes—mostly large publics and Ivies. These days, small private schools are also opting for equity deals. For example, Lehigh University recently executed a 50-year, 100% equity ground lease with EdR (now Greystar) to deliver 420+ apartment style beds in a campus edge project. The goal is to house the school's growing upper-division student population while revitalizing the adjacent business corridor near campus. The project, opening in 2019, will be a first of its kind for the university and allowed the school to preserve capital for planned academic projects.
Skolnicki added "Lehigh University is a great example of the new tide of universities pursuing equity structures – regardless of campus size, public or private – universities embarking on robust campus master plans are utilizing equity as a way to diversity their capital sources and preserve debt capacity for academic and research facilities."
Wilhelm says, "Over the course of the last decade, the publics have experienced an economic recession and their budgets have been under assault. So we've seen a lot of schools who like equity, and most of our projects are on public campuses. But as the economy has recovered and the publics have become more solvent, they're looking at a broader array of solutions. Meanwhile we've been getting a lot of private schools reaching out to us about equity."
We are not seeing a regional trend—we're not seeing equity deals only in the Southeast, for example. Nor does there appear to be a trend related to prestige. This is because investors are willing to invest in schools on an individual basis, considering merits alone (e.g., student body, credit profile, ability to grow enrollment). A highly prestigious school with optimal merits might attract different or additional developers than a small private school might, but both will have options available to them.
Leonczyk says, "Institutional equity is not solely reserved for the top-tier colleges and universities—there are in fact a number of institutions that can benefit from a private capital investment structure. Harrison Street has invested in P3s with both small private and large public institutions. Our underwriting criteria and credit analysis are robust, and when evaluating higher education P3 opportunities, we are looking for partners with resilient business models that offer value to their students, and therefore are likely to withstand the broader enrollment and financial pressures that we see in higher education."
So what are the characteristic of schools pursuing equity deals? Skolnicki says, "Schools with significant demand for capital resources for new projects or replacement due to significant deferred maintenance. Another is schools interested in ancillary or enabling projects that are outside of their core mission, for example a school looking to add graduate housing or a campus gateway project to support recruitment, but are looking for an proven partner to take on the development and operating risk and preserving their debt capacity. . . Finally, we see schools pursuing equity when they value having a single partner."
Leonczyk adds, "The schools that go to market with a requirement for significant equity investment, sometimes up to 100% of the capital stack, tend to be top-tier institutions that are confident they can attract that type of capital investment from institutional investors."
An equity deal lets a school preserve its capital. What is the impact of that?
It can be quite significant. First, it's of course impactful as a way to recoup much of the development cost at closing. Second, it's hugely impactful for a school to not have to carry an asset's operations and maintenance costs on its financial statements (treatment depends on the level of control in the structure and opinion of the financial advisor). Finally, there are also associated costs, for example operations staff's salaries and benefits that potentially don't have to be carried on an income statement.
What do private partners like or dislike about equity deals? How do they approach equity conceptually?
Wilhelm says, "We do not have a bias toward any structure. We don't feel a deal has to be equity or it has to be debt—it can be something in between, and we'll help educate a university so they can choose the structure that best meets their objectives."
Skolnicki says the same, and adds that developers weigh risks much the same way a university does. "The structure selected and the partnership embarked on must be a win-win. We typically underwrite each project as equity, tax-exempt and hybrid options and collaborate with each campus to determine the right structure to meet their goals."  For a developer and universities, she says, "The top four risks are revenue (occupancy, rental rate, etc.), development (construction, design, scheduled delivery, etc.), non-controllable expenses (e.g., utilities, property taxes), and O&M."
Concluding thoughts: Where do we go from here?
The type of structure a school chooses when looking to engage in a P3 must be based on not just the outcome desired, but the reason a development partner is being considered in the first place. That might be financial, or it might be about transferring some other kind of risk including schedule, construction, O&M, and other key risks as determined by the individual project. Maybe it's about bringing in expertise, or maybe it's about shortening the delivery timeline. Partners can and should align with these key drivers, just as the deal structure should.
Wilhelm says, "Traditionally, universities have looked for a P3 deal anywhere along the spectrum when they have balance sheet motivations. But schools are becoming much more sophisticated in how they're evaluating P3s and how they're evaluating risk transfer now. They're beginning to say, what risk do I want to transfer or not with pre-development? With construction? What risk do I want to transfer with respect to lease-up or stabilization? They realize, I want to transfer fully this risk, partially transfer this risk… and rather than saying, Ta da, that's a 501(c)(3) deal, they're telling developers the desired risk profile and asking what structure fits this best. This evolution will positively put pressure on the industry to innovate in these structures to better match a partnership with a risk profile."
The world of P3s can already be quite daunting for those first wading into it, and having to get a handle on new types of structures—or the concept of how customizable P3s are—will only add to that. At the same time, and more importantly, continued innovation with structures will add flexibility and the ability to customize—and that's a very good thing for everyone involved. As the saying goes—once you have done one P3, you have done only one P3. Every transaction results in some sort of evolution in the higher education P3 space, through the ability to adopt lessons learned from previously closed deals. Wilhelm says, "We think the equity approach will remain attractive." We do, too.
CASSIA SOOKHOO has led the effort for strategic partnerships in some of B&D's most recent public-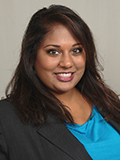 private partnership efforts at universities and municipalities. She has worked to structure the relationships with owners and development partners to deliver comprehensive asset planning. Her more than nine years of community development experience includes housing, finance, and development. Ms. Sookhoo has underwritten and managed projects ranging from $3 million to $2 billion. Her core competencies include project management, public finance, stakeholder advocacy, and grant management.